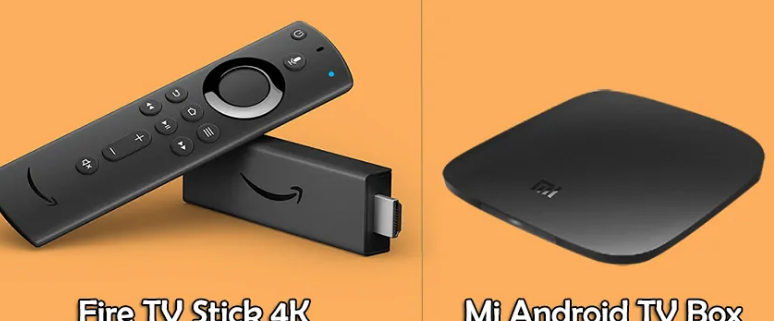 Streaming IPTV content has become more accessible and smoother than before, thanks to improvements in technology. With Amazon Fire TV stick or Android box, you can still enjoy the full benefits of owning a smart tv. That means you can enjoy top-notch pictures, stream favorite tv channels, and play games on a non-smart big screen.
Currently, there are many media streaming devices on the market, but for this article, we'll concentrate on the Firestick and Android TV box.
When we conducted an online poll, we noticed that around 80% of IPTV users prefer Amazon firestick or Android box. But many were still in doubt against which is better between Android box and firestick.
If you still have concerns about the best streaming device to pick, this comparison chat will help. Before we reel out our opinion, let's look at their unique features.
Amazon Fire Stick 
Besides being a household name in the e-commerce sector, Amazon is among the biggest manufacturer of streaming devices. Currently, Amazon fire stick is one of the most popular options in the industry. In April 2014, Amazon launched the first generation Fire TV stick, which runs on Broadcom BCM28155 dual-core processor with 1GHz speed and 1Gb Ram.
Having sighted a few challenges in the earlier model, Amazon quickly released the second generation firestick faster and more powerful processor. This one featured the MediaTek MT8127D 1.3GHz Quadcore ARM processor.
Still unsatisfied, in 2018, Amazon took a bolder step to release the powerful third-generation Firestick with Amlogic S905Z hi-speed processor. This new Fire TV model boasts 2Gb Ram and supports 4K/HDR protocols.
Now let's talk about the Android TV box.
Android TV Box
As an open-source operating system, Android is one of the most accessible platforms on the planet. For that reason, you're likely to find many companies that produce Android TV boxes. It would be best to be wary of the options on sale because there are also fake Android boxes.
In terms of popularity, Amazon firestick still tops the Android box. Of course, you'll soon find out the reasons as you read on. For instance, you need an HDMI cable to run an Android box interface on your TV.
Ready to get the full details of the comparison between the Amazon fire tv stick and Android box?
Check our list of the top 5 best TV boxes on the market.
Best IPTV streaming device – Android TV Box or Fire TV Stick?Manufacturer
Unlike Android boxes with many manufacturers, Amazon is the sole owner and manufacturer of fire tv sticks. That means you're less likely to buy a bad or low-quality Amazon 4K firestick.
Shape and Size
Space-saving is another essential factor consider when choosing between Amazon fire stick 4k and the Android TV box. The firestick is pretty small and portable, while the Android box is bulky. If you want a device that's easy to transport, then a fire TV stick is excellent.
Price
Android TV box costs around $100 to $250 depending on the manufacturer, while Amazon Firestick 4K costs about $50. That means the fire tv stick is much cheaper than the Android box.
While the Android Box and TV connection are via HDMI cable, you can directly plug your firestick into the TV through the USB port.
Display and Processor
Both Firestick and Android box supports 4K videos.
Amazon Firestick streams HDR content, but quite several Android boxes don't.
So, fire stick wins the day per overall video quality, especially when pairing with a stable IPTV service.
Operating system
Fire TV stick uses Fire OS 6, while many Android TV box versions run on Android 8.1 (Oreo). Unlike the Android TV box, which runs an open-source platform, Fire TV stick users must side-load before installing third-party apps.
If you don't know how to side-load apps on firestick, watch the video below.
RAM Size
Many latest Android box devices come with at least 3GB Ram, making them excellent for gaming and IPTV streaming apps. Meanwhile, Fire TV 4k has 2GB Ram.
So, the Android box runs faster and smoother.
Our Verdict
We can see that Amazon Firestick offers high-quality streaming at a lower price.
If budget is not an issue, you can pick the Android box. But make sure you buy the Android box from a reputable manufacturer.
Frequently Asked Questions
Does Amazon Firestick run on Android?
Amazon Firestick runs on the Fire OS, which is like the Android operating system. That means many regular Android apps will likely run firestick. However, it's preferable to test the app's compatibility through the free Amazon app testing service.
Can you use a firestick for multiple TVs?
Yes, it's possible with an HDMI Splitter.
What is new in the third generation fire TV stick?
Amazon fire stick comes equipped with the Dolby Atmos playback support for outstanding audio quality. It also boasts a quad-core 1.7GHz processor and 8Gb storage space, which can accommodate 15 apps.
Can a cheap-quality Android box harm my TV?
A low-quality Android TV box may not harm your smart TV but could come with spyware that compromises user data.
How do I convert my TV to a smart TV?
Converting a non-smart TV to a smart one is pretty simple with Wi-Fi and streaming devices like Roku, Android TV box, or firestick 4K TV. So plug your streaming device into the non-smart TV's HDMI ports. Connect the media streaming device to Wi-Fi. Boom, you just created a reliable smart TV.
https://iptv-setup.com/wp-content/uploads/2021/10/image_2021-10-14_144921.png
369
774
BlogAdmin
https://iptv-setup.com/wp-content/uploads/2022/08/LOGO-12.png
BlogAdmin
2021-10-14 13:47:06
2022-10-16 17:54:03
FIRE TV STICK OR ANDROID TV BOX – WHICH IS BETTER?