One of the well-liked and potent streaming devices in the market is the Amazon Fire TV Stick. You can use it to access a variety of streaming services on your Smart TVs, including Netflix, Amazon Prime, and Hulu.
If you want to access your favorite material on your Fire TV stick that is available outside of your current region without your ISP keeping an eye on you, you must use a VPN program. This will allow you to view your preferred TV series and movies on a Fire TV stick anonymously and safely.
A VPN on your Firestick masks your IP address so you can view IPTV and Kodi streams discreetly. With a VPN connection to your Firestick, you would access IPTV and Kodi content anonymously. VPN services also enable you to stream geo-restricted TV shows, movies, and live sporting.
What Free VPN Services are for Fire TV Sticks
The best free VPN services for your fire device in 2022 include:
Free Firestick VPN: Windscribe
Windscribe is the best free VPN for Fire TV Stick. The Firestick VPN app is well-designed and simple to set up and use. It is one of the fastest tested free VPNs, particularly when connecting to nearby servers.
This VPN service also supports P2P traffic on all of its free servers. Hence, Windscribe is compatible with P2P-based streaming apps as well.
Additionally, Windscribe encrypts your internet connection using AES-256. The program hides your actual IP address or DNS credentials, preventing authorities from recording your online behavior.
Free Firestick VPN: Proton VPN
Proton VPN stands out since there are no data limits in place. It offers unlimited use after installation. AES-256 encryption, built-in IP, and DNS leak protection are features of the Proton VPN that will conceal your IP or DNS address.
Free Firestick VPN: Hide.me
Hide.me is the fastest VPN for Firestick with a friendly user app. The VPN's fast streaming speeds are its main feature. It is also a free VPN that is safe and anonymous. It has several additional security settings in addition to a logging policy that prioritizes privacy.
ExpressVPN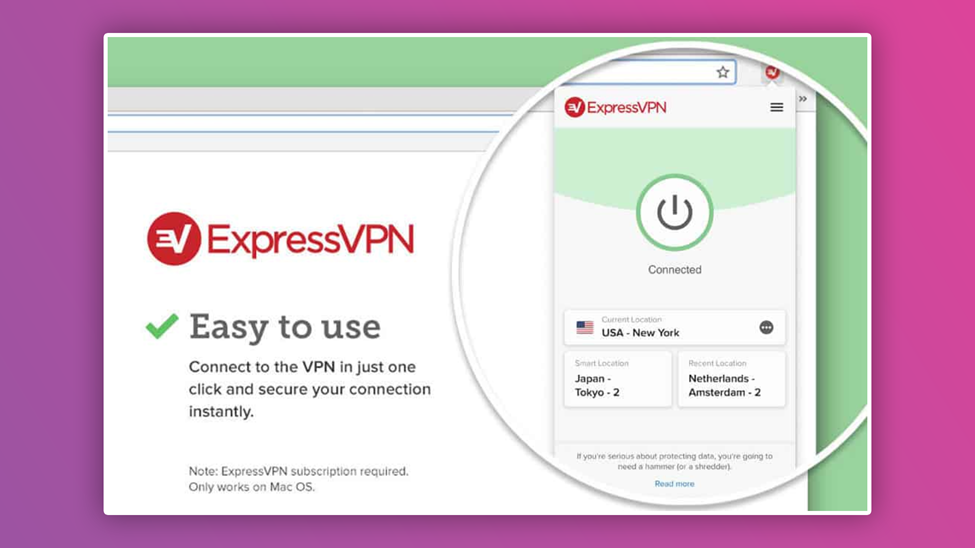 ExpressVPN tops the list of best VPNs for Firesticks today. It doesn't store your IP addresses, browsing history, search queries, and traffic destinations. You can access social media websites, films, music, and other restricted content.
This VPN provides online protection for Amazon Fire TV using the best leak-proofing and encryption technology. It encrypts your sensitive data to keep you safe. ExpressVPN comes with 24/7 email and Live chat support.
CyberGhost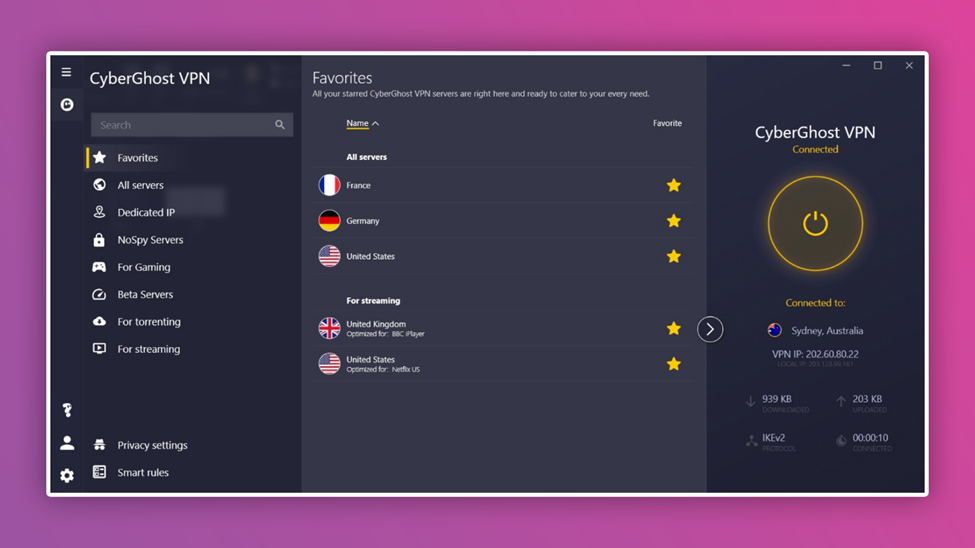 CyberGhost is a program that enables you to unblock websites and easily access your preferred content. It is among the top Fire Stick VPN apps for streaming and getting around geographic limitations. Additionally, this VPN program enables unrestricted anonymous web browsing.
CyberGhost aids your access to the NoSpy server and uses the most recent 256-bit AES encryption method to secure the data. You can mask your IP address using this VPN with only one mouse click. Additionally, it will alert you if you join an unsafe public network.
VyprVPN
You can access international content from any area using VyprVPN. As one of the fastest VPN programs available, it lets you bypass geographical restrictions and download speed caps. This VPN enables seamless uploading, downloading, and streaming of video content from websites.
VyprVPN allows you to securely connect or disconnect to any device with one mouse click, thanks to its kill switch capability. It provides everything you need to protect your privacy and security online.
Free Firestick VPN: NordVPN
We can't talk about the best free firesticks' VPNs without NordVPN. This VPN doesn't expose or share your personal information. NordVPN is a free P2P VPN that lets you protect yourself from malware and advertisements by encrypting incoming and outgoing data.
Free Firestick VPN: Surfshark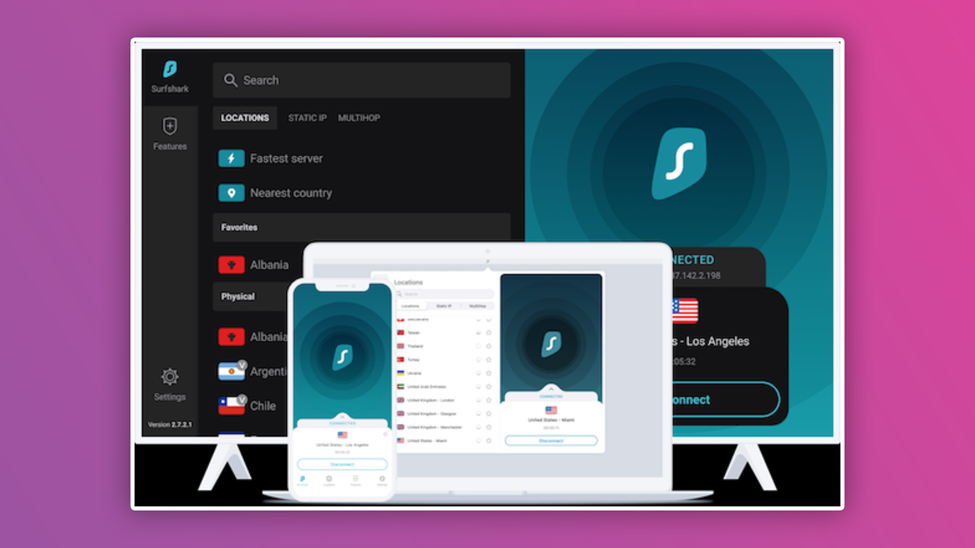 Surfshark offers private, quick, and secure Internet access. It can conceal the location of your server's physical hardware to protect your data. Surfshark enables websites and apps to get around VPN restrictions. By obscuring your IP address, you can secure your identity using this VPN.
This VPN supports P2P connections via VPN for Fire devices on particular servers. As a reliable VPN service, Surfshark can block bothersome websites and allows you to share your IP address with other users. Additionally, you can bookmark your preferred server locations with this Fire Stick VPN.
Free Firestick VPN: Atlas VPN
You can get extra freedom to surf the web with Atlas VPN. It provides top-notch WireGuard protocol to guarantee secure and seamless browsing, streaming, and gaming experience. It allows you to use multiple IP addresses at once when browsing.
How to Install Free VPN for Firestick
The simplest method to set up a VPN on your Fire device is to select a VPN service with a Firestick native app. You may type the app's name on the Amazon App Store to download it.
You can sideload the APK file for the VPN's Android app if it isn't available on the App Store. Ensure you select a VPN from the Amazon App Store because others are unreliable and could expose your device to malware. Here's how to sideload a VPN program onto your Firestick in detail:
Step 1: Enable Apps installation from the Unknown Sources
Go to Settings
Choose Device
Select Developer Options
Tap on USB Debugging
Step 2: Install the "Downloader" app from the Amazon App Store. This enables you to download files from URLs directly.
Step 3: Download the VPN App
Copy the URL for your preferred VPN Service
Paste it on the search box of the downloader app
Select the VPN from the dropdown to download
Install the VPN and activate it
After installation, launch the program, choose any server to connect to, and you'll be connected over a VPN.
Enjoy Free Firestick VPN Today
VPN lets you surf the web and watch TV channels without restrictions from the government. A vast majority of the free Firestick VPNs on this article come with restrictions. For example, there's slow internet speeds, data caps, and inability to watch specific services like Hulu, Amazon Prime, Disney +, etc. If you want to enjoy full features of these VPN services, try upgrade to their premium versions.
https://iptv-setup.com/wp-content/uploads/2022/09/image_2022-09-27_155810787.png
548
975
BlogAdmin
https://iptv-setup.com/wp-content/uploads/2022/08/LOGO-12.png
BlogAdmin
2022-09-28 01:04:02
2022-10-16 17:45:06
Best Free VPN for Firestick