After picking the Amazon Firestick as your best IPTV device, there are many things you should know to enjoy the TV best.
Become a TV guru with these fantastic Firestick tricks.
Amazon Firestick is still the best-rated streaming device today with an attractive, fast, and user-friendly interface.
Although built on Fire OS, it also runs Android-based apps. Like the Android Operating System, the Fire OS releases regular updates for bug fixing and better performance.
Amazon, a reliable tech giant, owns, markets both Firestick TV hardware and software.
Hence, you can expect a smoother streaming experience.
Saddle your ass; let's get started!
Most Essential Firestick Hacks for 2021
Here are the top 10 Amazon Firestick tricks that you should always keep in mind.
1. Install Android apps on Firestick using the downloader
Amazon supports all Android apps, but sadly, you may not find your favorite app on the Amazon app store.
Side-loading allows the installation of apps not found on the Amazon app store.
Surprisingly, downloading third-party apps on Amazon firestick is easier than you think.
Thanks to the downloader app.
Here's how to install Android apps on Firestick through the downloader.
Navigate to 'Settings'
Scroll to 'My Fire TV'
Click 'Developer Options'
Turn on 'ADB Debugging
Enable 'Allow Apps from Unknown Sources
Click OK
Return to the Homescreen
Tap Search
Type downloader 
Select the search result
Download and Install downloader
Click the downloader to open
Enter the app URL or shortcode
Wait for the download to end
Install the app
2. Navigate your Firestick with a smartphone
Download the Amazon Fire TV app from Google Play Store to control and interact with your Firestick remotely.
As a perfect replacement for the Firestick remote, the app can search with a keyboard or voice.
So, how do you get the Firestick TV app?
Open Google Play Store
Locate the Search option
Type Amazon Fire TV Remote
Install the app
Open the Firetv remote app
Log in with your Amazon account
Click setup, connect to Fire TV device
Control your TV with ease
3. Hide your IP and Streaming activities
Suppose you desire to stay hidden while surfing, use a reputable VPN service on your firestick device. IPVanish is the best VPN for Android and Firestick devices.
The best VPN service will protect your device and hide your streaming activities. You can take part in the IPVanish VPN amazing discounts now.
Get started with IPVanish VPN with these steps.
Click Search
Type IPVanish VPN
Hit download
Tap the app to open
Insert user account details
Link to a server
Choose any location or country
Return to the home screen
Browse with utmost privacy
4. Turn your Firestick to an entertainment hub
If you want a cost-effective way to watch TV shows, movies, sports, news, live events, choose the best IPTV service and start streaming.
Fame IPTV hosts US, Canada, UK live channels and streams 4K pictures.
It pairs with several IPTV players and streams with no buffering. We recommend you download the branded FameXCIPTV player.
If you still didn't subscribe to Fame IPTV, please visit www.fameiptv.com to make your order now.
Open the Downloader app
Type the URL http://apphost.store/fameapp/famexc.apk 
Or type the shortcode 46567
Select the app to download
Click open
Enter your Fame IPTV login details
Start streaming fantastic video content
5. Browse the web on Firestick TV
Firesticks have built-in browsers to use to surf the internet. Chrome, Firefox, Puffin, and Silk are some of the browsers to install on Amazon Firestick.
If you want to download Silk browser:
Click the Search icon
Type Silk Browser
Select the app to download
Return to the Homescreen
Locate the App Icon
Open Silk Browser
Type your web URL, press OK
6. Close background apps
Amazon Firestick has a relatively low memory capacity, 1GB RAM, and 8GB Storage. So, its performance drops when many apps are running in the background simultaneously.
Closing these apps is one of the ways to increase Firestick speed and performance.
But how? First:
Move to Settings
Applications
Go to Manage Installed Apps
Select the application you want to close
Then Force Stop
7. Update Firestick Software
Ever thought you could fix that problem on your device with a single click? Yes, Amazon often releases new software updates which become available for download.
Follow these steps to run the latest Fire OS on your device.
On your Homescreen
Tap Settings
Scroll to My Fire TV
Use the magnifier to enlarge fonts or images.
When you browse websites, you'll likely come across pictures or words that are difficult to read. When that happens, you'll wish there was a magnify option.
Well, Amazon already had you in mind through their built-in magnifier.
To enhance readability or display quality for words without a handheld magnifier, follow these steps.
Go to Settings
Click on Accessibility
Enable Screen Magnifier
Follow the menu that appears to control the zoom-in option
8. Check your storage space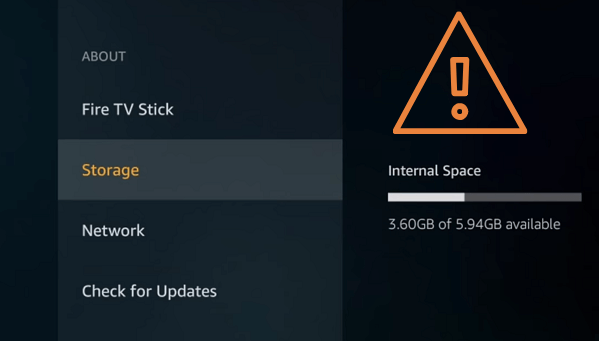 As earlier mentioned, Amazon Firestick has a limited storage capacity, hence knowing what space is left.
If it's low on memory, you should delete some unused apps or games to improve the device's speed.
How do you know what storage is left?
Click Settings
Scroll to My Fire
Tap on About
Select Storage
Check the right side of the screen to see the memory space
9. Connect Firestick with a Bluetooth device
Got wireless devices like a mouse, headphones and want to connect to your Firestick TV? Look at these steps:
Switch ON your external device Bluetooth
Move to Settings
Head to Controller / Bluetooth Settings
Select Other Bluetooth Devices
Go through the devices identified
Pair your device
10. Clicking Sound Hurts? Turn it off!
If you're not comfortable with the clicking sound from your Firestick, then it's best to turn it off. But how?
Head over to Settings
Move to Display and Sound
Tap Audio
Disable Navigation Sound
Conclusion
If you're using a Firestick device for the first time, it's obvious there are things you must know. Make sure you use a VPN to mask your online activities; we, therefore, recommend IPVanish. Besides, subscribe to a good IPTV service to stream the best-quality TV channels. Finally, enable installing apps from unknown sources to enjoy the most trending IPTV apps like XCIPTV, TiviMate, etc.
We hope you enjoyed this article. Feel free to share your thoughts, contributions, and inquiries through our live support.
https://iptv-setup.com/wp-content/uploads/2021/10/10-Best-Firestick-Tricks-for-2021.png
600
820
BlogAdmin
https://iptv-setup.com/wp-content/uploads/2022/08/LOGO-12.png
BlogAdmin
2021-10-28 12:43:18
2022-12-12 21:19:03
10 Best Firestick Tricks for 2021