People often consider the TV size, display resolution, price, HDMI ports but overlook the operating system. Before shopping for smart tv, you should know the best operating system to pick.
This article discusses different operating systems and sets you on the right course to picking the best.
Why should you pick the right operating system?
As IPTV becomes widely available, investing in an excellent smart TV makes a real difference. Like smartphones and laptops with different operating systems, smart TVs also have unique features. But it only takes a tech-savvy and experienced user to identify their differences.
Smart TVs operating system determine:
Apps available
User interface
Compatibility with apps and third-party devices
What are the smart TV operating systems available today?
If you take a trip to the local or online electronic shop, the smart TVs operating system choices to find are:
Tizen OS
Web OS
Android TV
Fire TV
Roku TV OS
So, which smart TV operating system is best for you?
Android TV
Android TV is among the most used operating systems for IPTV. These include the big screen and stick versions.
Since Android is an open-source platform, it's not out of place to have different experiences across TV manufacturers. That's because these companies have a way of adding their brand to the platform, often resulting in errors.
Nevertheless, all Android TVs support Chromecast. That means it's easier to cast a smartphone or tablet screen on your TV.
If you have a chrome browser installed on your PC or laptop, it's pretty comfortable to cast to your big screen.
How to cast from chrome?
If you want to cast directly from chrome browser to your TV:
Open Chrome browser app
Go to Menu
Scroll to cast
Find the active device
Tap on the device to pair.
Android TV also comes with Google Assistant. Hence, you can give voice commands to control your TV and other electronic devices in the home.
Web OS
All LG smart TVs run on the Web Operating System. Because of its user-friendly interface, the Web OS has made a positive mark in the smart TV industry.
The Web OS has become available in most LG devices, including projectors and fridges.
Navigation of the Web OS interface starts with clicking the launch icon found on the bottom of the screen.
Hence, it's easy to locate the apps and to control them from the menu bar.
Users can also personalize the bar to reposition the apps from the order of use.
Web OS also comes equipped with Bluetooth. So, you can connect to an external keyboard, mouse, etc. Bluetooth connectivity makes typing and navigation easier.
With Miracast, you can stream from a TV box without connecting the devices via HDMI ports.
Another essential feature of the Web OS is the live app function. It allows you to switch between apps quickly. You can open another app without closing the previously active one.
Overall, if you want the ease of use and clear display, the Web OS wins.
Fire TV OS
Based on Android, Fire TV OS powers Amazon products like firesticks, Fire TV. But Toshiba and Insignia also use the Fire TV OS on their streaming devices.
Fire TV users can access the Alexa voice feature to control smart homes, weather forecasts, calendars, to-do lists, etc.
Because users are limited to apps available on the Amazon store, it becomes tricky to install third-party apps. You still have regular streaming apps like Netflix, YouTube, HBO Max, etc.
Check our list of the best firestick apps for 2021.
If you want to install apps from the Google Play store, check our article on top firestick tricks for 2021. 
Otherwise, watch our video below. 
How to install apps on Amazon Firestick
Tizen OS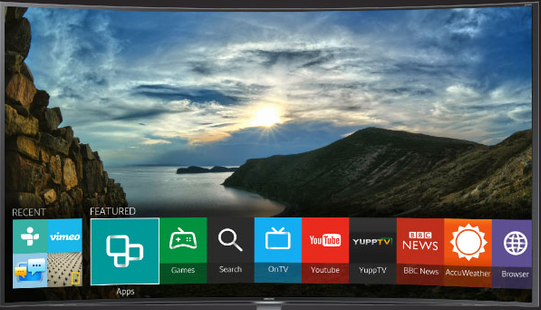 Tizen OS is a development of the Linux Foundation, commonly found on most Samsung devices like Cameras, TVs, Fridges, and Air Conditioners.
Tizen OS borrows many features from Web OS, making it pretty easy to navigate. It has the same bottom menu bar, which houses apps and content.
Though Tizen OS is pretty useful for IPTV, it still lags per intelligence. Instead of suggesting apps per your usage rate, it pops those apps you seldom use.
Unlike the Web OS with an advanced search function, the search result is often inconsistent with the Tizen OS.
Roku TV OS
Roku TV isn't pretty suitable for IPTV, but it's undoubtedly one of the best Smart TV OS today. Top features include:
Electronic program guide
Search function
Customized program feed
Playlist customization
Companies that manufacture Roku Television are:
Sharp
Element
Philips
RCA
Insignia
Hitachi
Hisense
Roku TV displays a complete TV Guide when connected to an HDTV antenna. You can add channels and access content not found in the Roku store.
Which Operating System is better?
Overall, we've considered the best operating systems for smart TVs, but the final decision is dependent on your preference. If you want a wide selection of apps and compatibility with Chromecast, pick Android TV.
If ease of navigation is your best bet, then go for the Web OS or Tizen.
For intelligent assistants and speed, FireTV is excellent.
Roku is a suitable device for regular streaming apps like Netflix and YouTube but often have issues with IPTV.
https://iptv-setup.com/wp-content/uploads/2021/11/Which-Smart-TV-Operating-System-To-Buy.png
600
820
BlogAdmin
https://iptv-setup.com/wp-content/uploads/2022/08/LOGO-12.png
BlogAdmin
2021-11-05 20:16:28
2022-10-16 17:52:40
Which Smart TV Operating System To Buy?