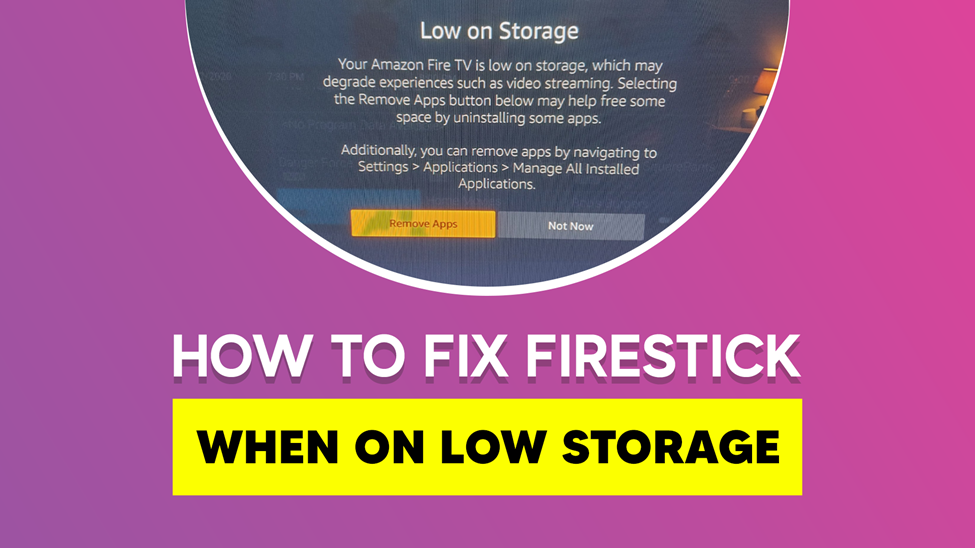 Looking to fix firestick when on low storage?
The Amazon firestick is a device created to offer you first-class streaming entertainment. The device can download apps and stream games, TV shows, and music. But like many other streaming devices, the Firestick has limited storage capacity. The firestick memory system comes with an 8GB storage capacity. Meanwhile, users get about 5GB of free space to download their favorite applications.
After installing many applications, you will likely receive a message from Amazon saying, "disk space running critically low." If you have received the information, you have low storage space and work on it.
Why You Should Free Up Your Storage Space
It is good to know that the storage space of the old version of the Amazon Firestick is less than that of the new version. A device with low storage will likely receive the error message. If you are using the older version, there is a high tendency for you to receive the error message.
However, you should free up your storage space because a low storage capacity will likely affect the performance of your device. The Amazon fire stick requires sufficient storage capacity for smooth operation. Therefore, you must consider the importance of the disk space. Because once it is low, your device will have issues during the download and installation of new applications.
As earlier stated, the Amazon firestick has a limited free space of about 5GB and 1.5GB of RAM. This indicates that when more applications are downloaded and installed, it will fill the limited space fast. Therefore, you should check your disk space from time to time to know your available storage limit.
Below is a guide on how to check Amazon Firestick disk space.
How to Check Amazon Firestick Disk Space
It is crucial to monitor your firestick disk space because insufficient storage can cause a problem. However, you can check your disk space by following the method below;
Switch on your Firestick
Go to the home screen
Navigate to the settings menu
Select My Fire TV             
Go to About                       
Then move to storage.     
Now your storage info will appear on the right-hand side of the page. If your storage space is low and you are getting the Amazon critically low on storage message, here's what to do.
What to Do When Firestick Storage Is Low
If your Firestick has storage issues, do not worry; the simplest solution is to clear storage. There are various ways to fix the problem.
Below are some expert solutions and guidelines to solve the storage issue to get your device back to normal for more first-class entertainment from Amazon.
1. Uninstall Some Unused Applications 
Sometimes, you download apps that you don't often use, which occupy more space on your device. Hence, a proven solution is to delete or uninstall some unused applications.
To do so, follow the guidelines below;
Put on your Fire TV
Return to the home screen
Select Settings
Click application
Select manage install application
Select any app of your choice and press to uninstall.
2. Clear App Data and Cache 
A cache is temporal data created by apps to access frequently used functions quickly. As you are using applications on your Firestick, some applications are automatically creating some cache files in the background.
When cache accumulates, it fills up your storage space. So, you should clear the cache to free up some space.
Clearing cache and data can help solve the low storage problem without uninstalling unused apps. You could lose some account information after clearing the cache. Because it will look as if you did a factory reset on the app.
To remove the cache, try the tips below.
Put On your Fire TV
Switch to the home screen
Go to settings
Tap on Applications
Click in Managed Installed Applications
Choose the app you want to clear its cache
Click on clear cache.
Now your device space is freed.
3. Deregister Your Firestick 
Sometimes, re-registering your Firestick could help to solve the low storage problem. Deregister first before attempting a factory reset since you will lose data, apps, and vital information. If the outcome of deregistering is unsatisfactory, consider a factory reset.
To deregister your Firestick, follow this guide;
Put on your Fire TV
Go to the home screen
Click on settings               
Go to my account             
Select Amazon account   
Click on Deregister.         
After deregistering your account, register it again to get your settings back. We hope the process will help you fix the storage problem.
4. Reset Your Firestick
If you have tried other methods and the problem persists, a factory reset should be the ultimate solution. But this process will erase all your data. For safety purposes, we recommend you back up all data before performing a factor reset.
To reset your Firestick, follow the steps below;
Put on your Fire TV
Go to the home screen   
Click My Fire TV or System
Click Reset to Factory Default
A warning message will pop up, so ignore it. After that,
Press Reset.                       
Now that you have reset your Fire TV, all settings will return to default. So, log in and set everything to your taste.
Contact Help Desk
We suggest you contact the Amazon Support Team if the problem persists after following all the solutions above. Reaching customer care is always necessary when there is a need for extra help.
The customer care team is always ready to help you out. Contact them via the Amazon Firestick App.
Use External Storage 
Use external storage if you have reclaimed your storage and do not want the issue to re-occur. The external storage will boost your device, giving you more room to download and install more applications.
Available external storage includes OTG cable or adaptor, Seagate 2TB portable Hard drive, 64GBSanDisk Flask, and USB-powered FAT 32 formatted flash disk.
Conclusion
The solutions given above will help free up space on your Firestick. Failure to clear the error message on time causes damage to your device. So, be conscious of your device storage limitation and avoid downloading unnecessary applications.
Ensure you keep at least 1GB of free storage space on your device. This will help you remove the storage error message and boost your device's functionality and durability.
https://iptv-setup.com/wp-content/uploads/2022/10/image_2022-10-04_181905513.png
548
975
BlogAdmin
https://iptv-setup.com/wp-content/uploads/2022/08/LOGO-12.png
BlogAdmin
2022-10-04 18:59:24
2022-10-16 17:34:24
How to Fix Firestick When On Low Storage