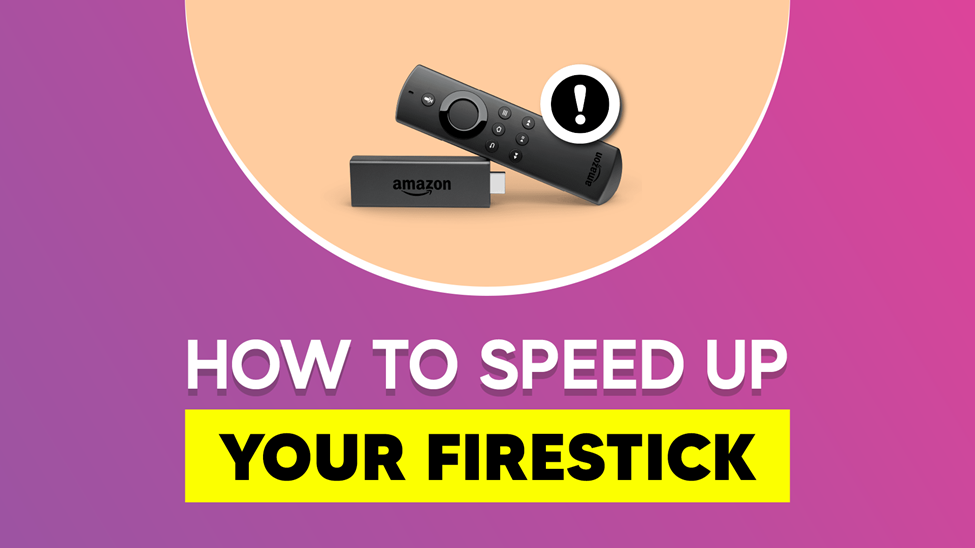 Do you want to increase your Firestick speed?
Firestick is an incredible streaming device, but there are times it performs at low speed. I understand how frustrating it is when your Firestick is slow. Imagine a situation where you are streaming your favorite content, and your device is freezing. It is annoying and time-consuming when you experience reduced quality, slow-motion video, long buffering time, sound errors, etc.
If you're facing these problems, you don't need to worry about replacing your Firestick. We will guide you on how you stream your content again with speed. But before we start, let's see why your Firestick is slow.
Why Is My Firestick Slow? 
A lot of factors can affect the speed of your Amazon Firestick. One of them is overheating. Most Amazon firestick users have been complaining of overheating. But, apart from overheating, other reasons your Firestick performs slowly are;
Old or outdated Firestick version
Slow internet connection
Too many background apps running
No storage
An automatic update is on
But in this article, we will guide you on the possible solutions to slow streaming on Firestick.
How Can I Speedup My Firestick?
Speeding up your Firestick is not a technical issue that requires an expert. You can do it right from the comfort of your home and at zero cost.
Here are the standard solutions for faster and more convenient entertainment on Firestick.
Prevent Overheating 
When overheating, your processor becomes slow, and apps start freezing. Create holes on your Amazon fire stick plastic case for air to circulate to your device. Switching off your Firestick for some time is a better way to stop overheating.
Reboot or Restart 
It is necessary to restart/reboot your Firestick as this is the most common method of troubleshooting your device. You can occasionally restart your device by unplugging and plugging it back.
Besides, you can restart your Firestick using your remote. Press the play and select button on your remote until a message appears on the screen, showing that your device is restarting.
However, you can also restart via the steps below:
Go to Settings                   
Click on My Fire TV         
Tap on Restart                   
After following the above steps, your device will start to power off, and you will wait for a while for a successful restart.
Clear Cache 
On the firestick, apps will accumulate data and cache, taking up more storage space on your device. Follow the steps below to boost your device performance by clearing the cache;
Navigate to Settings         
Hit on Application           
Click Manage Installed Application
Select your preferred application
After that, two options (cache and data) will appear. You may choose either of the two options. Note that clearing data will reset your app settings.
Uninstall Or Force Stop Some Unused Apps
Insufficient storage can cause poor performance. That's because apps running will cause overheating and lagging. Deleting or force-stopping unused apps is one of the best options for increasing your Firestick speed.
Follow the steps below to uninstall apps on your device.
Move to settings               
Click Application               
Tap on Managed Installed Application
Select your preferred app to uninstall
Click uninstall or force stop
Wait for a while, and the selected apps will respond to your command. Follow the same steps for other applications.                                                                                                             
Note that clicking on force stop will prevent apps from running in the background.
Update Firestick Software 
An old version of the software can make your device to be slow. However, Amazon frequently releases updates to boost performance and reliability. Though the update runs manually in the background, there is a way to track it. You can know what to do when a new update is available.
Below are the steps to update your firestick;
Click Settings                   
Select My Fire TV             
Tap on About                     

Select Install Update     
If there is any available update, click on it. Wait while your device updates for effective performance.
Disable Auto Update
The official and third-party apps are most times updated from to time. It is convenient if the apps are updated once there is a new update. But that can slow down the speed of your device. So, disabling automatic updates will let you upgrade your device at your pace.
Follow the steps below to disable automatic updates;
Go to the home screen 

Move to setting on the gear icon

Select Application 

Click App Store                 
Click automatic update to disable the option.
Disable App Notification
It can be unpleasant when unnecessary notifications keep appearing on the screen while watching contents on your Firestick. Apart from the distraction, the notification can affect the performance of your device. However, you can customize your notifications or turn them off.
Follow the steps below to customize your notification;
Go to settings                       
Select Preference               
Click Notification Settings

Select App Notification 

Then select your preferred application and turn off the notification.
But for turning off all notifications, follow the steps below;
Go to settings
Click on preference
Select notification settings
Click on do not disturb
Turn Off Collection App Data Usage 
For a secure and fast connection on your Firestick, you should turn off these settings. Amazon will monitor your online activities, which may consume system resources and slow down your device's speed.
Follow the steps below to turn off collection app data usage;
Go to settings                   
Select preference             
Click on privacy settings
Click on collect app data usage and turn it off.
Use a VPN
If your device is taking longer to buffer, the problem might not come from your hardware but your internet provider. Slow internet service will affect the performance of your Firestick. A strong VPN can help increase your internet speed for smooth performance.
Factory Reset Your Device
After trying all the above solutions and the problem persists, the final solution is to run a factory reset to restore your device to default. However, you will lose your passwords and data after a factory reset. So, always try to have a backup so that you can re-enter your information.
Follow the steps below to perform a factory reset.
Go to your Firestick's home screen
Select Settings                   
Click My Fire TV               
Click on Reset                   
This process will take a longer time. So, ensure that your device stays connected to the power source until the task is complete.
Conclusion 
Millions of users worldwide are enjoying the Amazon fire stick device. Facing the challenge posed by the slow device speed should not be an issue to deny you an incredible entertainment opportunity. However, we understand how frustrating it is when the device is slow. Don't worry; follow the above instructions to resolve the minor issue and save costs by not getting a new device.
https://iptv-setup.com/wp-content/uploads/2022/10/image_2022-10-01_012414951.png
548
975
BlogAdmin
https://iptv-setup.com/wp-content/uploads/2022/08/LOGO-12.png
BlogAdmin
2022-10-01 01:39:18
2022-10-16 17:36:43
How to Increase Your Firestick Speed